In 1990, driving up the highway from Southern California, Bernard Creegan saw a road sign that pointed to South Lake Tahoe and thought to himself, "Someone said it's pretty there." Twenty-five years later, his successful construction company, Creegan Builders, has been an integral part of the community's infrastructure, from residential remodeling projects to improvements and new construction at the local schools and innumerable commercial buildings. Bernard grew up in New Jersey and attended Keystone College in Pennsylvania and Palomar College in San Marcos, California. In his limited spare time, Bernard plays recreational hockey, rides his mountain bike, and spends time with his daughters.
Mother of two daughters, avid reader, attorney, grammar stickler, Pilates enthusiast and novice birdwatcher, Cristi has lived in South Lake Tahoe since 1997. Cristi's professional career has focused on executive-level management of conservation-based nonprofit organizations, including several years as the associate director of the Sierra Nevada Alliance and the Managing Director of the California Rangeland Trust. Her volunteer efforts have focused on children and education in the South Lake Tahoe community: membership on the board of directors of Live Violence Free (formerly the South Lake Tahoe Women's Center),where she is the current board president, the South Tahoe Middle School PTA, Tahoe Parents Nursery School, and the Tahoe Valley Elementary PTO. Cristi received her bachelor of arts degree from the University of California, Berkeley, and her juris doctorate from the Northwestern School of Law of Lewis & Clark College in Portland, Oregon, with a special degree in environmental law.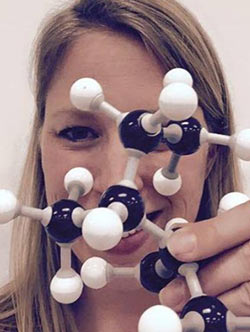 Jamie Orr is a co-founder of Cowork Tahoe and is an avid science educator. Born and raised in San Mateo, CA, Jamie spent every summer vacation on the West Shore of Lake Tahoe hiking, biking, and enjoying Tahoe's beautiful beaches with her family and their numerous golden retrievers. Passionate about nature and science from an early age, she received her BS in physics from Cal Poly, San Luis Obispo and then went on to obtain a Ph.D in theoretical physics from UC Davis. As an instructor at Foothill College in Silicon Valley, Jamie developed research and curricular programs in renewable energy technology & efficiency, nanotechnology, biomedical engineering, and 3D printing and also holds research privileges at NASA Ames Research Center.She also serves on the board of directors of Sustainable Silicon Valley and as co-chair of the Silicon Valley Leadership Group Energy Committee. Jamie acts as an advocate for science outreach at all ages and is excited to share her knowledge and love of science with the Tahoe community through Cowork Tahoe.
David Orr is a co-founder of Cowork Tahoe and serves the sales and business development officer.  Born and raised in Mountain View, California, David developed a passion for technology.  David received his  Bachelor of Arts in Political Science from the University of California Davis.  Since then he has worked for a variety of startups in Silicon Valley.  After going through a successful exit, David moved to South Lake Tahoe to align himself closely with his passions.  David also is very passionate about his hobbies!  He enjoys a wide variety of activities from snowboarding, fishing, hiking, eating new foods, biking, and his most guilty pleasure, video games.